Sorry for not blogging frequently, but as always, I'm still crazy for Justine haha!
Currently busy with work, learning to drive (yes I wish one day I could get my car license and qualified to drive like Justine...eh...maybe except for the "dangerous driving" as Justine said of herself, she loves driving fast eh!) and also, I'll be away for my grad trip to Korea soon in mid Oct until near end of Oct ;)
Some pics comparison of Justine with Porsche in 2007 and 2010:
"I'm a danger to everyone, I'm driving fast, lol!"
I can see that not only she bites her lips when she's hitting a tennis ball, she does that when driving as well, how cute!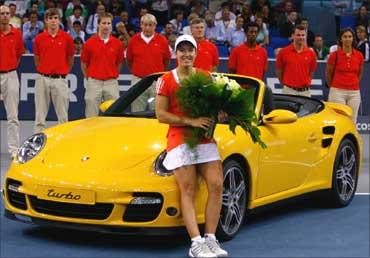 The expensive elegant car, even more so when sat on by Justine's butt
2013...if only Ju would still play in 2013..2007+3=2010, 2010+3=? Haiz~
This would make a nice colourful giddy wallpaper
Sexy car, sexy Justine...beautiful car, beautiful Justine
She has nv changed her pose...still the same "resting her arms on the car top edge with one door ajar" pose
Found all these photos from google images:
So Justine was at a F1 race track years ago? I wonder if Justine is a fan of car racing
yes, I know, I've posted a similar pic b4, but this one is without watermark ^^ Look at Justine...a total professional racer look....did she say that she loves driving fast? I can see where's that coming from >.<
And yup, another one which I've posted b4...Not sure if Justine had changed her car, but this was the car of Justine, the brand's Audi. Just some random stupid thoughts...did Justine choose Audi because it has the rings just like the Olympics rings (of course with difference)? Ju's most memorable tennis moment: gold medal in Athens 2004
"Allez! I've did it!!!" Hope I get to post this photo when I've passed my practical test and gotten my license! (Now still at early stages of learning)