Spread the news~ spread the news~ haha! Cos it's something related to tennis and this time round, Justine went to Bulgaria to promote tennis and also to partner with their tennis federation to help the Bulgarian tennis.
Thanks to faecbook news, tennisforum news and also the site itself for the source.
Pictures also from the site:
http://tennis.sportal.bg/galery.php?category=6#0
, and the links for the news are after the pics!

I'll post the pics that showed Justine only :P
So it's still snowing there! Ju didn't wear any gloves but nice boots!
Justine, are you trying to taste the snow? :-P
Skinny Ju, needs to wear thicker clothing, where's the eskimo Ju? I can imagine Justine shivering inside
Somehow, this photo seems to be taken from a wax museum...
And Justine looked like a little girl in this photo, but looking so cute lah! So wanna hug this Ju and gives her some warm! Donating my fats to her, Allez!
I love the kids smile when Justine giving them her autographs, lucky kids to have such close interactions with Justine. ;-)
I so wanna have those Justine-signed enormous sized tennis ball!
I want, I want!!!
Justine lucky signature...a sign on your big tennis ball, and you shall shine in the future, lol! Hope it comes true though but Ju said: "you need perseverance and passion."
Wah all equipment out for signature! Even the normal tennis ball also
Spot Justine...look for the boots
Justine looking serious watching the young potentials playing tennis, she's always passionate about the sport, good to see that!
Bulgarian Tennis Federation will partner with the Academy of Justine Henin (video):
Obviously one of the video has been uploaded onto youtube, but I'll still embed the videos from the site itself:
Google Translation:
Bulgarian Tennis Federation will partner with the Academy "6th sense" of the former No. 1-ranked Justine Henin.
The main objective of cooperation is to support the best young hopes in Bulgaria.
Olympic champion from Athens 2004 Henin arrived in Sofia yesterday and this morning attended the opening of training camp for boys and girls in "Sofia" Bulgarian national tennis center.
View Belgian occupation, which was led by a French specialist Patrick Simon.
In the session attended by the best young Bulgarian players to 12, 14 and 16 years of BNTTS coaches and personal trainers of talent.
Simon, a former coach of another famous former player, reached number 1 in the world Amelie Mauresmo (France) is now at the tennis academy "6th sense".
"The partnership is not for commercial purposes, but rather will be jointly job. Our coaches and talent will visit the Academy of Henin, but they will work primarily at the National Tennis Center in Sofia. This will consists cooperation, "said President BFTenis Stefan Tsvetkov.
champion seven times Grand Slam said has seen many talented kids an activity morning.
"Talent is seen in two minutes and I noticed gifted children today. To understand the potential, however, need more time to know the children. At first glance, there are good kids, but I can not say whether I saw future champions" Henin said.
"For the first time in Bulgaria. I'm glad I'm here. I am happy that we can cooperate with the Bulgarian Tennis Federation. Work in my academy in Belgium is aimed at children, and this coincides with our common goals" she added.
"I always tell my children that is most important to enjoy the tennis courts and give them pleasure. To have success and develop their potential to give everything in training and matches," said more Belgian.
She remembered his meetings with the court and Magdalena Maleeva Tsvetana Pironkova.
"From Maleeva I have very good memories. It's a great guy, I was always nice to talk to her. Pironkova did a great fighter," said Henin.
It boasts Bulgaria's first rocket men Grigor Dimitrov, who described as "very talented player who has qualities that will develop over time. "
Justine Henin has promised to help the Bulgarian Tennis:
Minister of Physical Education and Sports Svilen Neykov met with former No. 1 tennis player Justine Henin, who first visited Bulgaria.
Her visit at the invitation of President of the Bulgarian Tennis Federation Stefan Tsvetkov, who together with Secretary General of the Federation Georgi Dontchev attended the famous tennis player in her visit with Minister Neykov.
purpose of the visit of the legendary Belgian is to establish lasting cooperation between our young talented players and its Academy in Brussels, where preparing children from different age groups.
"In Bulgaria you have very talented children. My efforts are all aimed at teenagers and I am sure that my experience with my help can be valuable to them," said Justine Henin.
The famous tennis player receives a gift book "Bulgarian sport" and then invite Minister Neykov to visit her country to be personally acquainted with the academy.
At the end of the meeting Justine Henin has promised to visit Bulgaria again, which will probably happen at the end of October this year for the tournament champion WTA, which will be held in "Arena Armeec" in Sofia.
Justine Henin is known for his backhand, set by John McEnroe as "the best among all players in the world" - women or men.
In 2004 she won a gold medal at the XXVIII Summer Olympic Games in Athens.
She has won four times Open de France in 2003, 2005, 2006 and 2007.
In his sports career, Henin has won 424 games.
There are 41 titles in tournaments WTA, 7 of which are Grand Slam.
In 2007 he opened his tennis academy "Club Justine N1".
Once again he comes to court in 2010 it finally terminated his career in January 2011.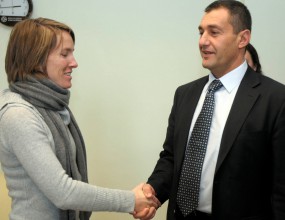 A firm handshake...the start to improve the bulgarian tennis through collaborations (Is Justine too cold that she looked abit pale?)
Justine receiving a gift of a book collection of their bulgarian sports (and also Ju looking abit tired...not enough rest?)
Is Ju wondering what they are saying, couldn't understand their language...