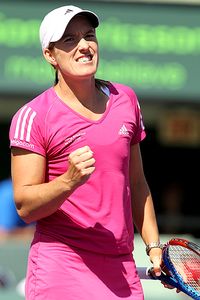 I was actually following her first set of the game late at night through live score board, it was intense and when Ju lost the first set, I was kinda dishearted and didn't wanna watch it anymore, I wanted to go to sleep. But, I was praying so hard that when I woke up she'll win, and as a result, I think I lost my sleep, I couldn't sleep well, but luckily Justine fought back hard and won
Caroline Wozniacki
by 3 sets:
6-7 (5), 6-3, 6-4.
"I enjoy much more every win on the court," Henin said. "Before that it was like everything was normal, and I forget how I could enjoy my tennis. I had the feeling I was getting a little bit lost.
"I've been away to just find myself again and trust myself as a person. Now that I have this great experience behind me and to come back with everything I know that I didn't know two years ago, I enjoy my game much more than in the past."
Hearing Juju said those words, I'm so glad that she enjoyed her game, it's important to enjoy the game so that you can find the feel and desire to win. I know in the past, she thought winning was just natural for her, after all, she's the champ but perhaps tht time, losing would be very painful too! I just hope Ju nv lost again, not only her game, but herself, both physically and mentally.
Phew! hopefully Justine can have a good night rest, she had some injuries taking anti-inflammatory medication for soreness in the muscles around her lower back and hips. Get well soon Justine and now I could relax my mind a little...way to the semi finals, good luck to Justine!